With the development of economic and technology, people's living standard improved a lot. More and more people pay much more attention to the basic necessities of life. Such as: clothing, food, housing, traveling, and so on. Yes, many people tend to travel abroad. They want to go different places to experience exotic customs. Are you the one of them? Would you like to go out to see more different things? My answer is "Yes." Maybe yours answer must be the same. I think in this new age, nobody wants to stay at home always. But, actually we have a little time to spend on vacation because we have a lot work to do, a lot of things to deal with or we do not have enough money to go out. What a pity! However, we can think about it, we can imagine the trip. Imaginations are beautiful.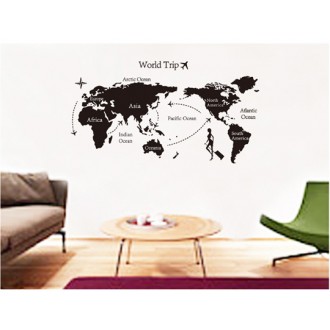 Here, you can apply a world trip map wall sticker in your space. It is black. This wall art includes all the countries over the world. It has been given a clear indication of the Oceans and Continents. From this world map, you will obtain a lot geographical knowledge, and know many countries you never heard. Of course, you will have many thoughts which you never think about deeply.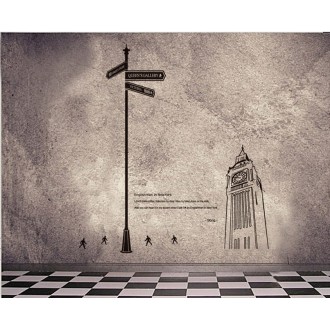 Also, our wall decal made from the high quality of vinyl. There is not any noxious material in it. It is removable and self-adhesive. It is very easy to apply and easy to peel. What you need to do is just peel and stick. It can be applied almost anywhere smooth, flat, dry and clean. So, you can apply it in your living-room, study or bedroom, and so on. Of course, there will be no any residue left behind. You don't need worry about it any more.
You can get both knowledge and decorate you house after applying this world trip map wall decal. It benefits a lot. What do you think about it? Please have a try.