If you are planning to decorate your baby's room, you can choose a nursery wall decal. There are such a lot of merits are here:
1. There are many kinds of wall art stickers for your choice. There are trees and flowers, birds and butterflies, animals and vehicles, music and sports, chalkboard and white board stickers, and so on. Different shapes will be identified slowly by baby. It is good for baby's intelligence.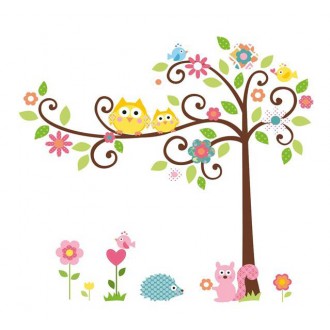 2. Nursery wall stickers are always have brilliant colors. There are different colors in every vinyl wall decal. Do you know why we have these all colors? The reason is colors can stimulate baby's optical nerve in order to accelerate baby's mental development. And baby always shows a strong curiosity to different colors.
3. It is cheap for decorating. I think in house decorations fields, there is no such a inexpensive decoration product but wall decal. It will not cost too much compared with hiring a decoration company or painting the wall by yourself. So, it's an economic way to saving.
4. It is harmless. Our wall art decals are made from top quality of vinyl. You don't need to worry about the material. It was examined strictly during producing. You can enjoy it with the little baby and your family.

5. And it is removable. Vinyl wall art stickers are very simple to apply and simple to use. What you need to do is just peel and stick. It will go any flat, smooth, clean, dry place. Also, you can decorate your walls, windows, doors, and so on. If you want to correct the wall decal to another desired place. You just need to peel them up and stick it again. It's very easy. However, it will not damage your wall and there will be no residue left behind.
What are you waiting for? Hurry up and decorate your baby's room in vinyl wall art. These kinds of nursery wall decal will turn your baby's room unique and cozy. It will bring your baby easy and happy atmosphere.